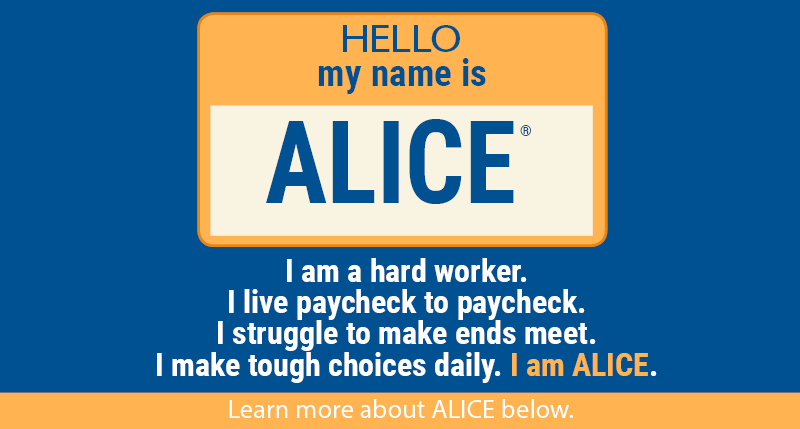 ALICE: 
A
sset 
L
imited, 
I
ncome 
C
onstrained, 
E
mployed
Have you meet alice?
You may not know it, but the answer is yes. In fact, you know many ALICEs.
ALICE, an acronym for Asset Limited, Income Constrained, Employed, is a new way of defining and understanding the struggles of households that earn above the Federal Poverty Level, but not enough to afford a bare bones household budget.
WHO IS ALICE?
ALICE represents the men and women of all ages and races who get up each day to go to work, but who aren't sure if they'll be able to put dinner on the table each night. ALICE is your child care worker, mechanic, home health aide, store clerk, and office assistant – all workers essential to you and to our community's success

.  For f
ar too many families, the cost of living outpaces what they earn.  The households struggle to manage even their most basic needs - housing, food, transportation, child care, health care, and necessary technology.  When fu
nds run short, cash-strapped households are forced to make impossible choices, such as deciding between quality child care or paying the rent, filling a prescription or fixing the car.  These short-term decisions have long-term consequences not only for ALICE fa
milies, but for all of us.
The future success of our communities is directly tied to the financial stability of these fragile ALICE households.
WHAT TYPES OF HOUSEHOLDS ARE STRUGGLING?
The way Americans live is changing.  There are many different family and living combinations -- more than ever before.  More adults are living alone, with roommates, or with their parents.  Families with children are changing: there are more non-married cohabiting parents, same-sex parents, and blended families with remarried parents.  The number of senior households is also increasing.  Yet all types of households continue to struggle: ALICE and poverty-level households exist across all of th
ese living arrangements.
                                            Household Types by income, 2010 to 2017                                               

   HOUSEHOLD TYPES BY INcome, 2017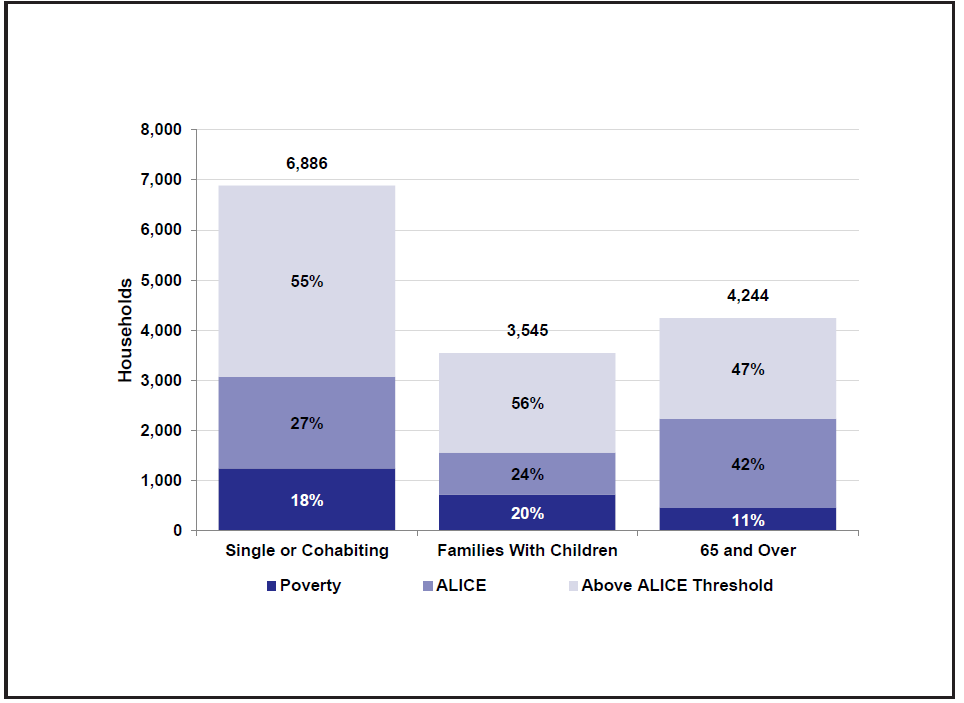 WHY DO SO MANY HOUSEHOLDS STRUGGLE?
The cost of living continues to increase...
The Household Survival Budget reflects the bare minimum that a household needs to live and work today.  It does not include savings for emergencies or future goals like college.  In 2017, cost were well above the Federal Poverty Level of $12,060 for a single adult and $24,600 for a family of four.  Family costs increased by 22% statewide from 2010 to 2017, compared to the 12% inflation nationally.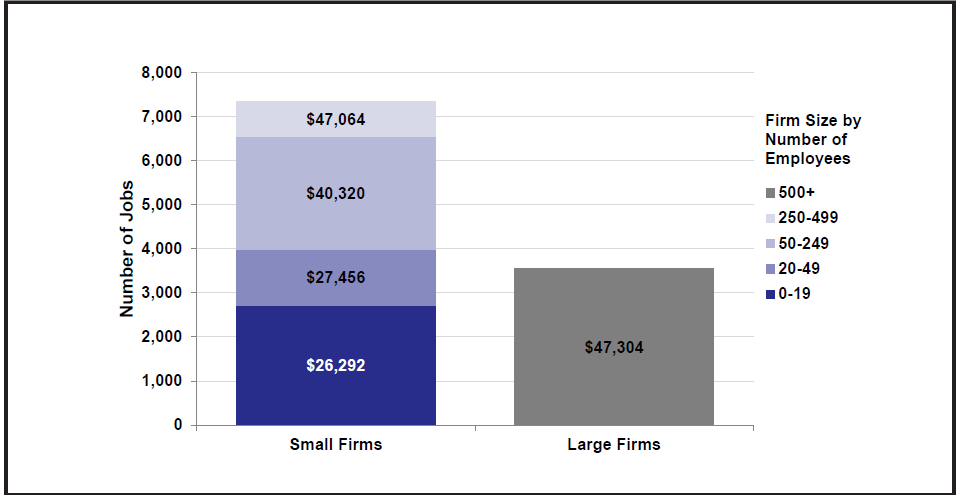 ...and wages lag behind
Employment and wages vary by location; firms generally pay higher wages in areas with a higher cost of living, although those wages still do not always cover basic needs.  Employment and wages also vary by firm size: Large firms tend to offer higher wages and more job stability; smaller businesses can account for more jobs overall, especially in rural areas, but may pay less and offer less stability.  Medium-size firms pay more but typically employ the fewest workers.
ALICE IN CLINTON COUNTY
2017 POINT-IN-TIME DATA
NUMBER OF HOUSEHOLDS: 
14,675
MEDIAN HOUSEHOLD INCOME: 
$47,990
(sTATE AVERAGE: $59,195)
UNEMPLOYMENT RATE: 
6%

 
(
STATE AVERAGE: 5.3%) 
ALICE HOUSEHOLDS: 

30% 
(STATE AVERAGE: 24%)
HOUSEHOLDS IN POVERTY: 

16% 
(sTATE AVERAGE: 13%)